Course details
Pine (Matsu) course 4,000 yen (tax included) 【2 h with all you can drink】 Cospa's strongest! Most popular!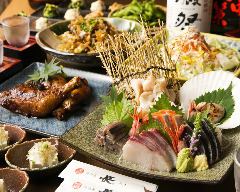 By using a coupon4000 yen
Cooking only 3000 yen Including drinks and unlimited items 4000 yen
All-you-can-drink available

Various sake and soft drinks are available.※ You can not receive only the unlimited drinks.
Reservation deadline

Up to 18 o'clock yesterday on the day before the desired store visit
Available days for reservation

Monday - Sunday - Public holidays - Holidays
At the banquet course of the Izakaya chief, it is the basis of the basics.First of all, I would like to try this!
Course menu
◆ Seasonal small bowl
◆ The Shakaginate
◆ Assortment of three farmers
◆ Shincha Caesar salad
◆ Tsukiji sent directly to Tsukiji fresh fish and platter platter
◆ Special spare rib meat spare rib 【Long】 Homemade sauce
◆ Trout Mackerel Broiled Sashimi
◆ Meat balls crisp udon noodles
◆ Assortment of spices
◆ Rape flowers and bamboo shoots Meita rice
◆ Black Mitsu Shiratama Zenzai
All-you-can-drink menu
·beer
· Draft beer / black beer / half & half
· Shochu
· 【Potato】 / 【Wheat】 / 【Rice】 Oolong Tea / Green Tea Cereal / Barley Tea
·whiskey
· Rock / Water split / Soda Discount
·Plum wine
· Rock / Water split / Soda Discount
·Sake
· Okonomiyaki
·wine
· Red wine / white wine
·Cocktail
· Gin Tonic / Jim Buck / Mosco Nuel / Cassis Soda / Cassis Orange / Cassis Oolong / Campari Orange / Campari Soda / Lychee Orange / Raischi Soda
·Soft drink
· Oolong tea / Orange juice / Grapefruit juice / Coca-Cola / Ginjaya
2018/07/16 update